+ 30 Day In Home 100% Refund Period
+ 5 Year Parts & Labor Warranty with Every Signature Edition Upgrade
+ 100% GUARANTEED to beat ANYTHING else on the market!
Nothing we sell ever comes back.  
We don't even have to advertise.  Once our clients experience for themselves the extreme high performance & "bang for the buck" we deliver, they keep coming back as funds permit.  
The Upgrade Company would not continue to be A+ rated on the nationwide BBB algorithm month after month unless we were delivering on our promises.
Please Email Us on This email address is being protected from spambots. You need JavaScript enabled to view it.  to place order
JVC DLA - X95RKT 4K e-shift D-ILA Projector
Brand:
JVC
Product Code:
JVCPRO01
Availability:
In Stock
Price:
$11,999.95
$8,199.00
Brand New Factory Sealed JVC DLA - X95RKT 4K e-shift D-ILA Projector - FREE SHIPPING!

The Upgrade Company LLC is a fully authorized JVC dealer!
Overview
JVC Raises the Bar with 4K e-shift2
4K e-shift2 smashes through the high definition barrier, taking two-million pixel 1080p HD images, and up converting them to eight-million pixel 4K images. That's four times the resolution of Full HD!
The THX 3D Display certified DLA-X95R includes all the performance you've come to expect from JVC. The X95R benefits from three hand-selected D-ILA devices, specialized final adjustment and a three-year warranty. It uses an upgraded light engine with an improved wire grid polarizer to project a 4K Precision image with amazing black level and 130,000:1 Native Contrast Ratio. "Native" means JVC does not use a dynamic iris, making it possible to reproduce the deepest blacks and vivid peak whites at the same time, for the most impactful images in each and every frame.
All new JVC Procision projectors are 3D enabled, and feature a wide range of 3D enhancements, including a brighter 3D picture and reduced 3D cross talk.
A 3D RF Emitter (PK-EM2, included) syncs the projected image with JVC's Active Shutter 3D RF Glasses (PK-AG3, two pair are included) for a superior 3D experience, no matter what type of screen is used or how the home theater has been configured. By using RF technology, installation is simplified, and the available viewing range is increased substantially.
JVC offers impressive installation flexibility with a 2X Optical Zoom featuring motorized focus, zoom & lens shift settings. The X95R offers a Lens Memory function with ten memories that allow those settings to be stored for different picture formats. This makes it easy to view multiple picture formats, such as 16:9 HDTV and Cinemascope movies, at a constant image height on a cinemascope screen, without any annoying black bars.
The X95R has achieved THX certification. Simply selecting the THX mode allows optimized playback of either 2D or 3D content with no additional adjustment required. JVC further insures the highest performance by licensing the ISF C3 calibration mode. Along with 7 axis color management and a high precision pixel alignment system, it is possible to calibrate the X95R to the most exacting standards.
 JVC's top projector
130,000:1 Native Contrast Ratio
1920x1080(x3) 0.7-inch D-ILA devices
e-shift2 4K Precision 3840 X 2160 Projected Image
MPC (Multiple pixel control) with JVC's 8 Band Detection 2K to 4K Upscaling Engine
New 230 Watt NSH Illumination System 
(lamp life up to 4,000 hours in normal mode)
THX® 3D Certified
ISF (Imaging Science Foundation) Certified
Built from hand selected Components
6 picture modes and 3 color spaces
Darkness and lightness correction
Lens memory function memorizes 10 positions for focus, zoom and shift
Maintains constant height for 2.35, 1.85, 1.78 on same screen.
Screen Mode Presets for different screen material (255 memory positions)
Convergence Correction - 1/16th Pixel Increments
Improved 3D Brightness
Advanced 3D Crosstalk Cancellation Control
3D Anamorphic Mode
Parallax adjustment for fine tuning 3D effect
Highly customizable built-in 2D-3D converter
Includes: (2) pair of RF 3D glasses; (1) RF 3D Signal Emitter
Accepts all modern 3D formats (Blu-ray, side-by-side, top-and-bottom)
Inputs: (2) HDMI 1.4a; (1) VGA; (1) Component
LAN connection for system control and firmware updates
Remote control via LAN, RS-232C, IR
12V Screen Trigger Output
V: 80%/H: 34% motorized lens shift
1.4:1 to 2.8:1 lens throw
Smartphone remote control app available
3 Year Warranty
Please email before purchase any questions you may have regarding this product or any other Audio Video product that isn't listed. Stock availability and any further discounts that maybe applicable.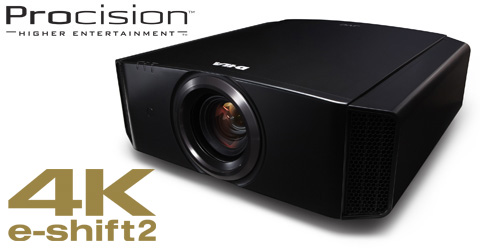 Write a review
Your Name:
Your Review:
Note: HTML is not translated!
Rating:
Bad
Good
Page information last updated: 06/05/2020
Disclaimer: We believe but do not guarantee that the information on this website is correct at the time of publication.